1. Software is installed onto one computer on the network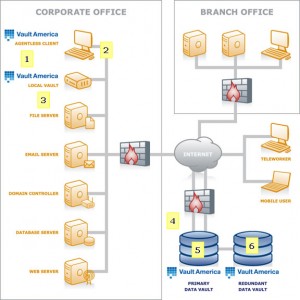 We install our agentless software solution onto one computer (server or desktop) on your LAN. Regardless of how many servers you have, it will only need to be loaded once. In a typical situation of one server, an installation will take an average of 20 minutes.
During the installation process, you will decide the start time, frequency and time limit of your automated backup. You will also establish the number of versions you want stored in your vault. The initial backup is called the 'seed'. Each version represents the status of the data at the point in time of the backup, capturing any changes since the last backup. Once the maximum number of versions has been reached, the next backup will force a merger of version #1 into the initial backup or seed.
2. Data is automatically encrypted and compressed prior to offsite transfer.
Once the software activates itself, it will scan your data for any and all changes that have been made since the last transfer. It will break the data down into blocks, gather and encrypt only the changes or addition of new data, and automatically transfer that bundle to your vault to be established as a new version. An unlimited number of versions which are different point in time copies can be retained on the data vaults. Vault America encryption cannot be turned off. There are two different encryption types offered to you for the data: Blowfish or Military-Grade AES.
3. Data can be held locally on hard drive disk for immediate onsite recovery.
Vault America Local Backup can be activated and is ideal for customers with available storage capacity on their local LAN who require rapid disk-to-disk, seamless business continuity. Local Backup establishes a Local Backup Vault which enables you to save data processed by the Vault America Online Backup CS-Client locally, thereby ensuring that relevant backup sets are always available for immediate restoration at LAN speed.
4. Data is transferred offsite and a report is generated.
The encrypted data is transferred over your existing Internet connection to our secure data vault. In order for the transfer to take place, your Internet connection must be active at the time of the scheduled backup. A report indicating the transfer activity and data amount will be sent to you by e-mail.
5. Data is held on hard drive disk for rapid online recovery.
If there is a loss of data, be it a single lost file or a complete loss of all data, the process to restore the information is simple and fast. The end user is instructed by the software to access the data and how to quickly place it back into the system. Our customer service department will assist you if necessary.
6. Data is backed up and replicated again.
Our goal is to provide our clients with a very simple and reliable backup and recovery solution. We guarantee that your data will be there for you if you ever need it. To ensure that our guarantee is more than just words, we duplicate your copy for an additional backup and added insurance.